WordPress is widely used as a CMS for both personal and professional blogs and websites. It has become an essential part of almost every website, especially those run by individuals. It powers a lot of business websites without much technical knowledge. WordPress is a flexible CMS and has been designed keeping the needs of users in mind. It has a lot of advantages over other blogging platforms such as the lack of technical skills required to use it, availability of plugins and themes, ease of customization, website security, support from the community, etc. This article will explain why WordPress is so popular among bloggers and how you can use it as well to start your own blog.
What is WordPress?
WordPress is a free and open-source content management system (CMS) that powers millions of blogs and websites. It was primarily built as a blogging platform but has now grown into much more. It is what we call a full stack CMS. The word "stack" here means that it has been built to handle almost all the aspects of content management and serve the purpose for which it's been designed.
WordPress is among the most popular blogging platforms in the world because of its incredible flexibility and ease of use. You can use it to build a personal WordPress blog or even a business website, depending on your requirements. It has features like drag and drop page builder, custom post types, customizable widgets, multiple premium themes, and easy installation. You can also add your own custom functionality using plugins. A huge community of WordPress users and developers ensures that the platform grows, evolves, and is always at the forefront. This platform is also one of the most secure platforms available. It has ways to ensure that only the right people can access the site, and even blocks bots and automatic attacks.
Ease of Use
The beauty of this platform lies in how easy it is to use. You can begin your journey with WordPress with complete ease. You do not need any technical skills to use it, as long as you have a basic understanding of a web browser. The interface is so simple that even a child can use it. You can also learn how to use WordPress step by step by reading online tutorials or going through bookmarked posts on various blogs online.
Themes come with various colors, layouts, and other features that can be used to create the look and feel of your own website. WordPress has an app ecosystem, so installing mobile apps for your site is also very easy. Once you are done with the basic setup of your site, you can start adding content. WordPress comes with hundreds of available content types that you can use for creating different types of posts. You can include images, videos, audio files, and a huge variety of other features that make your content more interesting. WordPress also has many built-in Search Engine Optimization (SEO) features that can help you rank high on search engines.
Free and Premium Plugins and themes for customization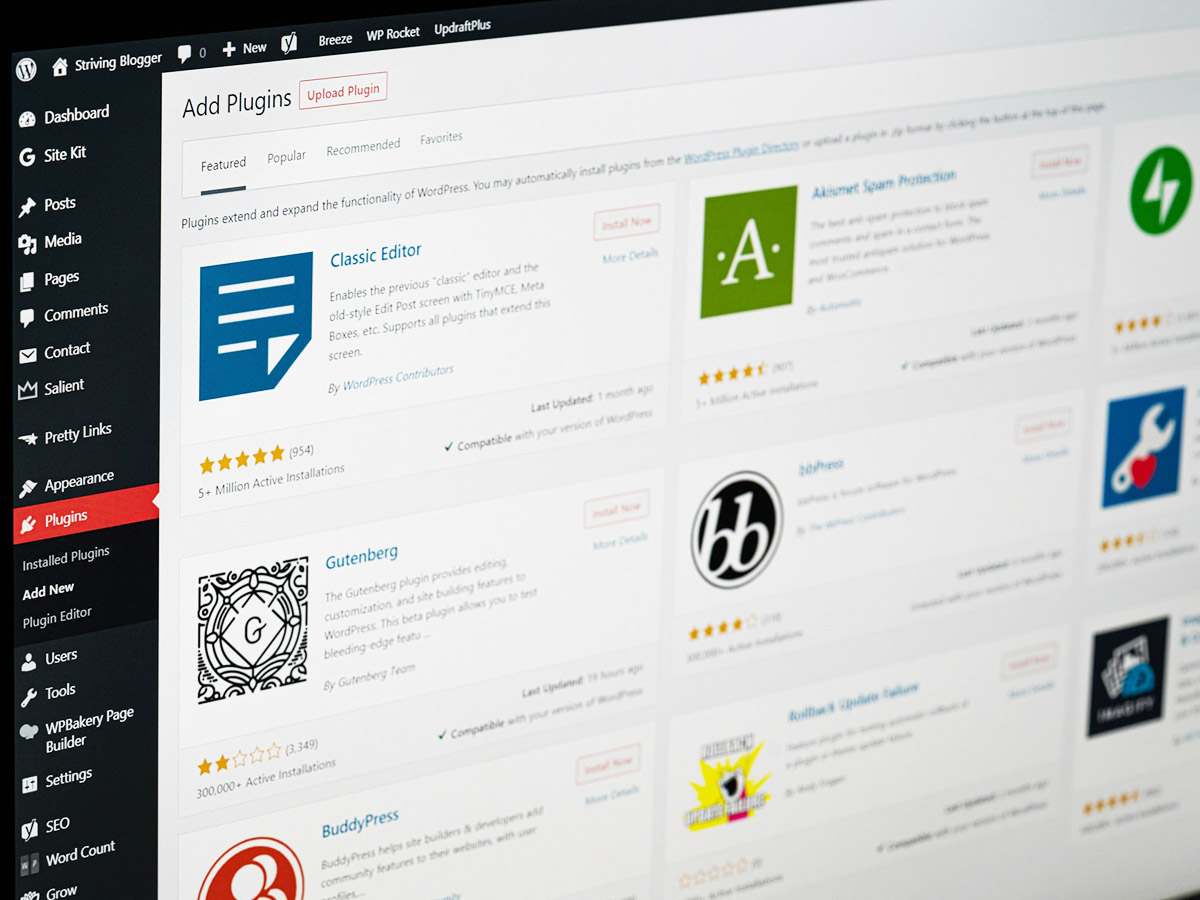 Building a website is one thing, but it is nothing if it doesn't look good. All the hard work of creating posts is nothing if it doesn't look good. WordPress has the ability to automatically load various plugins that help you create beautiful website designs. These plugins use various design elements and styles to create a professional website.
As WordPress powers millions of websites, it has a huge community of developers and designers who constantly update the free plugins. These WordPress plugins are free to use and you don't have to pay anything as long as you use them on your website. There are also premium plugins that have a small cost attached. You can pay for a premium plugin and use it on your website. WordPress also has a plugin marketplace where you can search for plugins specifically designed for your website. You can also browse through trending plugins and themes on the WordPress themes marketplace.
When you install WordPress, there's a WordPress theme ready for you to use.
Support by WordPress Community
From beginners to experts, the WordPress community is filled with helpful members who can help you with almost any issue. You can reach out to them by posting on the forums or by emailing or commenting on posts. The community is made up of dedicated members who post solutions for various problems and offer advice to beginners. This ensures that everyone is helped. WordPress has its own forum where you can discuss various issues and get solutions to them. If you have a problem with your website, you can contact the support team. They will help you access your site, troubleshoot issues, and provide solutions. They also provide a knowledge base with answers to frequently asked questions.
SEO Benefits
WordPress comes with a wide range of SEO features that help you optimize your posts for better search engine ranking. These features are available in the default setup and don't require any additional work. Some of WordPress's most notable positive effects on search engine optimization are as follows:
Blog posts and pages get automatically indexed by search engines and make it easy for them to crawl them.
Search engines are analyzing posts and pages to see the type of content and the quality of it, and they are doing it by looking at the schema. Some WordPress themes have a built-in Schema Markup feature that helps your content to be properly marked and get a good score.
Conclusion
WordPress is the most widely used blogging platform, and millions of people use it to build their own blogs with little to no specialized knowledge. It is a highly customizable content management system with SEO features, automatic indexing, and much more. With these WordPress SEO benefits, you can create amazing websites without any technical knowledge.